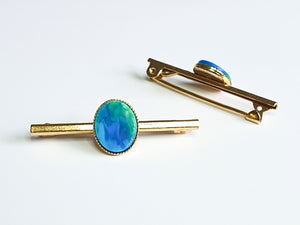 Pins inspired by the elegance of the cameo style brooch, with colours of the Earth made from recycled 3D printer waste. 
A modern take on a 5,000 year old jewelry style - traditionally made from shell, coral, stone lava, or glass, these plastic pins showcase new materials in a 'precious' way. Precious Plastic, the open-source plastic recycling project that Remix Plastic is based on, aims to highlight the shifts in readily available materials and make 'waste' materials seen as more valuable. 
The earthy colours and golden backing make these pins a beautiful piece to celebrate the an old style in a new context. 
Dimensions: pins are 3.3cm long, centerpiece is 1cm high.