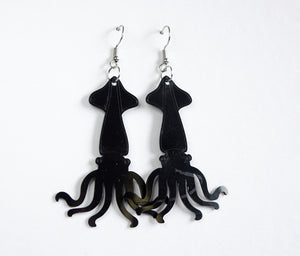 While often far from our shores, New Zealand has over 85 species of squid! Our marine environment is as important as the terrestrial but are often hard to study, hard to protect and in the case of squid, hard to even find!
Three interesting facts about squid:

Squid have three hearts
Giant squid eyes are the size of Frisbees
Squid proteins are being used to develop alternatives to plastic
These earrings are laser cut from ice cream container lids which would otherwise be going to landfill.
Hooks (stainless steel, hypoallergenic)
Size: 5.5cm high and 4.5 cm wide at widest point (tentacles). 

Made from
polypropylene (PP) ice cream container lids 
in Christchurch, NZ by Remix Plastic.
To find out more about why we make these, 
read our blog post.
Notes
Our Squid earrings are part of our
foundation range
of products. This 
range is made up of items that we can consistently guarantee supply. They are designed to use up waste from other products or are made from materials that are easily sourced.
Each squid is unique with
its own embossing from the tub lids
- we celebrate their uniqueness, as we hope you do! Please get in touch if you are not satisfied with your purchase and we will do what we can to resolve any issues in a timely manner.