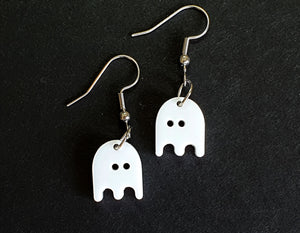 These video game inspired cuties are made from salvaged acrylic offcuts and are the smallest in our range so far! Great for Halloween or any time you want some little buddies keeping you company.
Ghosts are 1.3 x 1.1cm with hypoallergenic hooks. 

Made from Salvaged Acrylic Offcuts in Christchurch, NZ by Remix Plastic.
Every one is unique with its own colours (and blemishes) - they are fully functioning and we celebrate their uniqueness, as we hope you do! Please get in touch if you are not satisfied with your purchase and we will do what we can to resolve any issues in a timely manner.

When shipped we will post plastic free.