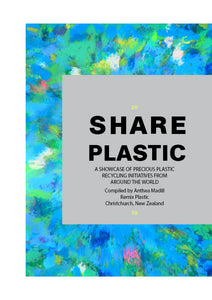 Share Plastic showcases a selection of products and designs from plastic recycling projects around the world. The aim of this book is to inspire people with a glimpse of the beauty that can come from plastic waste, and show the potential and opportunities that exists within their own lives and communities.
We understand that the products are only one aspect of these initiatives and have intentionally left out details of the processes and techniques. Treat this as an art exhibition rather than an in depth guide to plastic recycling.
The projects curated in this book have been selected to show a wide range of products and artworks. Each was contacted through Instagram and everyone that was invited to be involved said yes - a perfect example of how open and accessible these initiatives are.
About Remix Plastic 
Remix Plastic aims to provide education that encourages and empowers individuals to make sustainable changes. Using the Precious Plastic model of hands on recycling, Remix Plastic works to engage people in a conversation around plastic pollution and ways to reduce single-use-plastic consumption.
The project works collaboratively with other educators, facilitators and specialists to grow and increase the positive impact on sustainability education throughout Christchurch and New Zealand.
This book is published by Remix Plastic 2019
ISBN 978-0-473-48374-6 (PDF)
ISBN 978-0-473-48373-9 (EPUB)
ISBN 978-0-473-48571-9 (Softcover)
Creative Commons License
Share Plastic
by
Remix Plastic
is licensed under a
Creative Commons Attribution-NonCommercial-NoDerivatives 4.0 International License
.
Based on a work at
www.remixplastic.com
. If you are interested in using any of the photos in this book please contact the artist directly. Note: Some of the small scale recycling initiatives showcased do not identify as Precious Plastic projects as they were developed at the same time in isolation.